Press
Reviews / Press / Interviews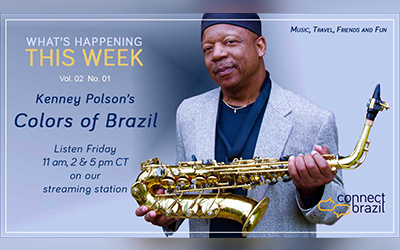 VIBRANT TONES FROM SAXOPHONIST KENNEY POLSON: THIS WEEK'S COVER STORY Ahh… the colors of Brazilian jazz! What is it about Kenney Polson's Brazilian jazz album that has top journalists from JAZZIZ to Audiophile Review singing its 5-star praises? Maybe it's...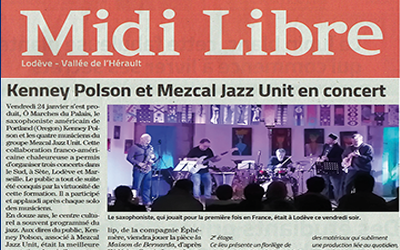 Midi Libre Lodève - Vallée de l'Hérault Vendredi 24 janvier s'est pro­duit, Ô Marches du Palais, le saxophoniste américain de Portland (Oregon) Kenney Pol-son et les quatre musiciens du groupe Mezcal Jazz Unit. Cette collaboration franco-améri­caine chaleureuse a...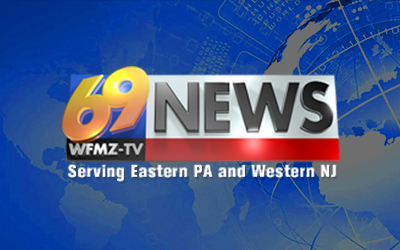 PRNewswire CISION Not Just Jazz Network launches featuring Saxophonist Kenney Polson's new single "Innocence" from his CD "For Lovers Only". The Not Just Jazz Network features recording artist, Kenney Poison who takes his saxophone to another level with his new single...
By Special to West Hawaii Today KAILUA-KONA — Sailing high on the success of his latest album, "For Lovers Only," Portland-based smooth jazz saxophonist Kenney Polson performs Saturday at Gertrude's Jazz Bar in Kailua-Kona. He will play straight jazz standards with...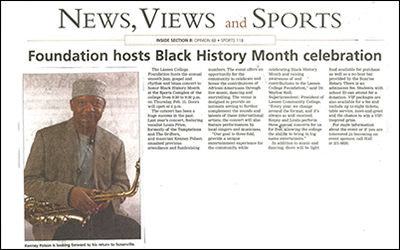 By Lassen County Times, Westwood PinePress The Lassen College Foundation hosts the annual smooth jazz, gospel and rhythm, and blues concert to honor Black History Month at the Sports Complex of the college from 6:30 to 9:30 p.m. on Thursday, Feb 15. Doors will open at...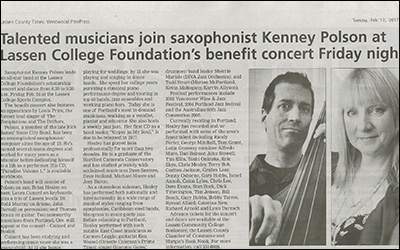 By Lassen County Times, Westwood PinePress February 17, 2017 Saxophonist Kenney Polson leads an all-star band at the Lassen College Foundation's scholarship concert and dance from 6:30 to 9:30 p.m. Friday, Feb. 24 at the Lassen College Sports Complex. The benefit...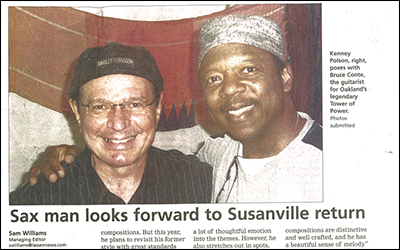 LassenNews.com / Lassen County Times By Sam Williams - Managing Editor Jazz sax man Kenney Polson, Looks forward to his return to Susanville at the Lassen College Foundation Scholarship Benefit Concert and Dance held at 6 p.m. Thursday, Feb. 15 at the  Lassen Community...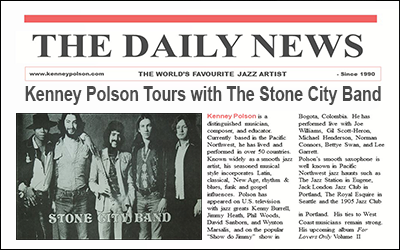 By Ivy Davis The Advocate "I started for all the wrong reasons," Kenney Polson said. Polson is a member of the MHCC District board of directors, elected in 2015 to a four-year term. He is also a world-traveling, accomplished saxophonist/composer. This summer he plans...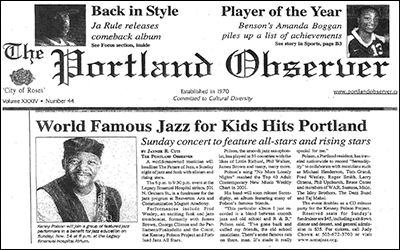 By Jaymee R Cuti The Portland Observer A world-renowned musician will headline The Future of Jan, a Sunday night of jazz and funk with all-stars and rising stars. The 6 p.m. to 9:30 p.m. event at the Legacy Emanuel Hospital atrium, 501 N. Graham St., is a fundraiser...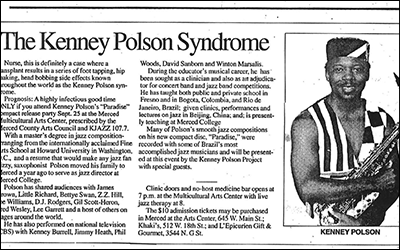 Student writer Campus Digest Nurse, this is definitely a case where a transplant results in a series of foot tapping. hip shaking, head bobbing side effects known throughout the world as the Kenney Poison syndrome. Prognosis: A highly infectious good time ONLY if you...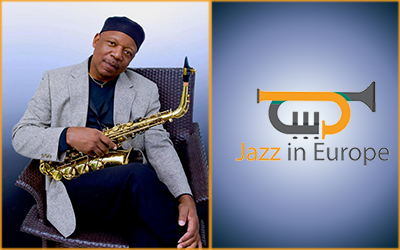 e  AN INTERVIEW WITH KENNEY POLSON – JAZZ SAXOPHONIST Kenney Polson is a Jazz saxophonist,  accomplished composer and educator. Based in the Pacific Northwest, he has lived and performed in over 50 countries. Known widely as a smooth jazz artist, his seasoned musical...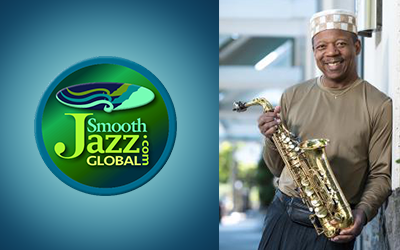 Sandy Shore Interviewed Kenney Polson about the album Paradise, Volume. I Q. How did this album and overall concept for it come about, and what are your ultimate goals with it? A. I was living in Rio de Janeiro, Brazil at the time. It was also a very creative time in...
We respect your privacy: no spam and your information is safe with us.