By Special to West Hawaii Today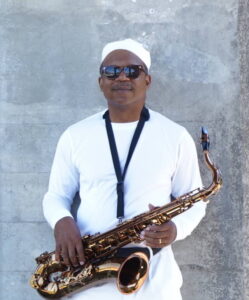 KAILUA-KONA — Sailing high on the success of his latest album, "For Lovers Only," Portland-based smooth jazz saxophonist Kenney Polson performs Saturday at Gertrude's Jazz Bar in Kailua-Kona.
He will play straight jazz standards with Jocelyn Michelle on keys, Greg Shirley on bass and Nick Wong (drums) at the Alii Drive venue overlooking Kailua Bay. The show runs 7-10 p.m. and there is a $10 cover.
Polson's latest release includes leading players such as guitarist Bruce Conte; keyboardist Roger Smith (Tower of Power); trumpeter, Larry Gittens (Kool &The Gang); guitarist Phil Upchurch (Donny Hathaway and George Benson); and smooth jazz pioneer pianist, Tom Grant. Trombonist Fred Wesley (Parliament Funkadelic) and bassist/vocalist Michael Henderson (Miles Davis, Stevie Wonder) are also featured.
The album includes brilliant takes on favorites like "Valentine Love" by Michael Henderson and "La La (Means I love You)" by Tom Bell and William Hart. Noteworthy Polson originals include tunes like "Blessed" and "Black Swan," a tribute to the first Black owned record company.
Kenney Polson has appeared on U.S. TV with jazz greats Kenny Burrell, Jimmy Heath, Phil Woods, David Sanborn and Wynton Marsalis. He has performed live with genre giants Joe Williams, Gil Scott-Heron, Michael Henderson, Norman Connors, Bettye Swan, and Lee Garrett.
Polson's career has taken him to Japan, Korea, Hawaii, Colombia, Brazil, and the Caribbean. Traveling to more than 50 countries, he shared his own music while picking up the nuances of style that inform his current work. He toured extensively with Rick James's Original Stone City Band and led his own ensembles to the Capital City Jazz Festival, Orange County Funk Fest, the Stockton Smooth Jazz Festival, PDX Jazz Festival and Vanport Jazz Festival. His smooth tones are well known in Pacific Northwest jazz haunts in Eugene, Portland and Seattle.
An accomplished composer and educator, Polson hails from a music loving family in Kansas City, Missouri. His grandfather, "Chubby Wayne" Harshaw played with jazz royalty such as Count Basie and Cab Calloway. His Uncle Charles sang with the legendary Coasters. Polson holds a master's degree in jazz composition and arranging from Howard University in Washington, D.C., a jazz mecca for young musicians.
Read the full review on –  westhawaiitoday.com