By Lassen County Times, Westwood PinePress
February 17, 2017
Saxophonist Kenney Polson leads an all-star band at the Lassen College Foundation's scholarship concert and dance from 6:30 to 9:30 p.m. Friday, Feb. 24 at the Lassen College Sports Complex.
The benefit concert also features an appearance by Louis Price, the former lead singer of The Temptations and The Drifters.
Polson, a member of the late Rick James' Stone City Band, has been an accomplished saxophonist/ composer since the age of 13. He's earned several music degrees and worked for many years as an educator before dedicating himself to a life as a performer. His CD, "Paradise Volume 1," is available worldwide.
Polson's band will consist of  Poison on sax; Brian Healey on bass; Laura Cunard on keyboards; plus a trio of Lassen locals: Dr.Todd Murray on drums; Jolm Darnell on percussion; and Thomas Braun on guitar. Two noteworthy musicians from Portland, Ore. will appear at the concert – Cunard, and  Healey.
Cunard has been studying and performing music since she was a young child. At 11 she began playing for weddings; by15 she was playing and singing in dance bands. She spent her college years pursuing a classical piano performance degree and touring in  top-40 bands, jazz ensembles and working piano bars. Today she is one of Portland's most in-demand musicians, working as a vocalist, pianist, and educator. She also hosts a weekly jazz jam. Her first CD as a bandleader, "Gypsy in My Soul, "is due to be released in 2017.
Healey has played bass professionally for more than two decades. He is a graduate of the Hartford Camerata Conservatory and has studied privately with acclaimed musicians Dave Santoro,  Dave Holland, Michael Moore, and Joey Baron.
As a chameleon sideman, Healey has performed both nationally and internationally in a wide range of musical styles ranging from symphonies, Caribbean steel bands, bluegrass to avant-garde jazz. Before relocating to Portland, Healey performed with such notable East Coast musicians as Carmen Leggio; guitarist Ken  Wessel (Ornette Coleman's Prime Time); singer Giacomo Gates; drummer/band leader Sherrie  Maricle (DIVA Jazz Orchestra); and Todd Strait (Marian McPartla.nd,  Kevin Mahogany, Karrin Allyson).
Festival performances include 2003 Vancouver Wine & Jazz Festival, 2004 Portland Jazz festival and the Australian 60th Jazz Convention 2005.
Currently residing in Portland, Healey has recorded and/ or ' performed with some of the area's  finest talent including Randy  Porter, George Mitchell, Tom Grant,  Latin Grammy nominee Alfredo  Muro, Dan Balmer, John Stowell, Tim Ellis,Toshi Onizuka, Eric Skye, Chris Mosley Terry Rob, Carlton Jackson, Grahm Lear,  Donny Osborne, Gary Hobbs, Israel  Annoh, Caton Lyles, Chris Lee, Dave Evans, Stan Bock, Dick Titterington, Tim Jenson, Bill  Beach, Gary Hobbs, Bobby Torres, Byrant Allard, Caterina New, Richard Arnold and Lynn Darroch.
Advance tickets for the concert and dance are available at the Lassen Community College Bookstore, the Lassen County  Chamber of Commerce and Margie's Book Nook.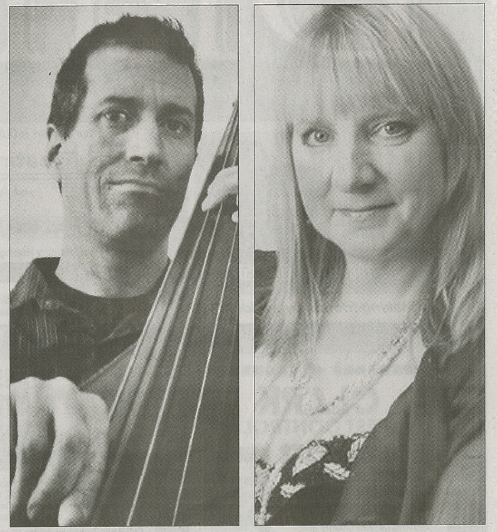 Bassist Brian Healey, a chameleon sideman, has appeared both nationally and internationally. He will join Kenney Polson at the Lassen College Foundation's benefit concert at 6:30 p.m. Friday, Feb. 24 at the Lassen Community College Sports Complex.
Laura Cunard, one of Portland, Oregon's most in-demand musicians, will join saxophonist Kenny Polson on keyboards at the Lassen College Foundation's benefit concert at 6:30 p.m. Friday, Feb. 24 at the Lassen Community College Sports Complex.