LassenNews.com / Lassen County Times
By Sam Williams – Managing Editor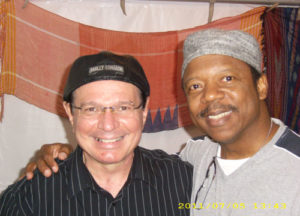 Jazz sax man Kenney Polson, Looks forward to his return to Susanville at the Lassen College Foundation Scholarship Benefit Concert and Dance held at 6 p.m. Thursday, Feb. 15 at the  Lassen Community College Sports Complex.
Polson's been busy since his appearance at last year's fundraiser. Since then he's performed with the Rick James Stone City Band at the Anaheim Funk Festival,  bassist Michael Henderson and trombonist Fred Wesley.
In Fact, Polson will come to Susanville directly from a Washington, D.C. recording semion with former classmates at Howard University. These classmates are from Brazil, where  Kenney lived for five years and worked with Antonio Carlos Jobim.
Polson also plans to offer something a little different at this year's show. At the past two fundraisers, Polson put the focus on his own compositions. But this year.  he plans to revisit his former style with great standards such as "There Will Never Be Another You. Also, he plans to return the emphasis on playing with local Lassen County musicians – Dr. Todd Murray on drums; Greg Dood on bass: and  Thomas Breun on guitar. As a special treat. local sax man Fred Walton will join Poison show on two numbers.
In March, in conjunction with working on his third CD, Poison will release "Love –  on a Two-Way Street, "the first single from his second CD.
According to a review of his CD, "Paradise, Volume  One," "Poison is an up-and-coming artist, an altoist, and soprano-saxophonist who has his own sound. His music on 'Paradise, Volume One,' while it will appeal to the smooth audience due to the electronic rhythms on some selections. is on a higher level. Polson's tones on his instruments are beautiful and he loves to caress the melodies. putting a lot of thoughtful emotion into the themes. However, he also stretches out in spots, coming up with consistently fresh variations that are a bit boppish while keeping the melody close by".
Producer Dun Mizell, a long-time friend, said, "Kenney makes melodies sound gorgeous without  sounding sappy, He has inventive ideas and does not  copy anybody His looks forward to Susanville return compositions are distinctive  and well crafted, and he has a beautiful sense of melody"
Poison has appeared at  Kennedy Center Honors with  Wynton Marsalis, Kenny Burrell. Jimmy Heath and Phil Woods. Tickets are available at the LCC Bookstore. the Lassen  County Chamber of ' Commerce and Margie's Book Nook.