By GEANNINE REID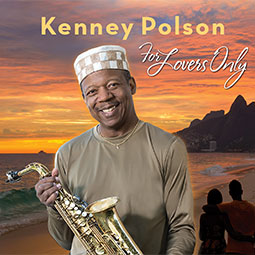 Saxophonist Kenney Polson may not be a household name but he has a lengthy pedigree in jazz and smooth jazz. He was born in Kansas City, Missouri to a musical family; a grandfather worked with Count Basie and Cab Calloway and an uncle sang with the Coasters. Polson's discography since 2010 includes Serendipity (2014, No Slop Media), Paradise (2016, No Slop Media) and now 
For Lovers Only
.
The album is aptly titled and Polson's warm and fluid timbre resonates throughout. Friends from WAR, The Isley Brothers, Kool & The Gang, Malo, Rufus, and Tower of Power are among the line-up. "Many of them are not playing solos," says Polson, "but mixing R&B guys with jazz guys really makes for a great sound, and they are laying down killer grooves to augment the feel of these melodies."
"Stella by Starlight" features pianist Tom Grant. The track is definitively smooth, its ambiance reinforced with backing vocals which give a lyrical R&B ambiance. Grant and Polson trade tasty fours towards the end. On "Blessed," Bruce Conte (Tower of Power) plays a duet with Polson on tenor. The rapport between the two players is deep.
Polson wrote "Black Swan" as a tribute to America's first black-owned record company. Black Swan Records. On the track, Polson is joined by guitarist Phil Upchurch, who offers a nimble solo with quick arpeggios and a warm tone. The texture changes on "Forever Yours," which features Bob Russell on alto flute, Roger Smith on organ and Polson on bass clarinet.
For Lovers Only invites you to sit back, relax and grab a glass of wine. There is enough substance to catch your ears and enough smooth to soothe your mind.
Track Listing: Stella by Starlight; Innocence; Valentine Love; Love On a Two Way Street; La La (Means I Love You); Black Swan, Forever Yours, Passion; For Lovers Only.
Personnel: Kenney Polson: soprano, alto, tenor saxophone, bass clarinet, percussion, keyboard; Fred Wesley: trombone; Bruce Conte: guitar; Roger Smith: Hammond organ; Hans Zurmuehlen: keyboards; Julian Molina: bass, Alonzo Powell: drums; Donald Factory: keyboards, synth bass; Steve Nance, Craig Hall: acoustic guitar; Marlon McClain: electric guitar; M.B. Cotton: drums; Jay Koder: guitar; Wayne Henderson: keyboards, piano; Brian Toel: bass; Graham Lear: drums; Crystal Jackson, Cheryl Lockett, Carol J. Toca, Raymond Williams: background vocals; Mombo Hernandez, Marcos Reyes, Anthony C. Polson: percussion; Trent Baarsphul: guitar; Bob Russell: alto flute; Leon Jones: bass; Nate Grisby: drums; Pablo Rivarola: trumpet; Cotrell Billingsly: trombone; Michael Severson: piano, keys; Grady McKenzie: bass; Dave Hagen: drums.
Title: For Lovers Only | Year Released: 2019 | Record Label: Prodigee Records
View the full interview on allaboutjazz.com